Warning after Kent cooking fires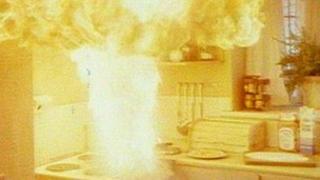 People have been urged to "stand by your pan" by Kent Fire and Rescue Service (KFRS) after two properties were damaged by cooking fires.
A couple were rescued from their flat at 03:30 GMT on Saturday after the man fell asleep leaving chips in the oven.
A chip pan caught light in a flat in Folkestone at about 12:40 GMT on Sunday after a man fell asleep while cooking.
Rob Sherwood, from KFRS, said: "Don't risk your life and your property for the sake of a night-time snack."
The fire service said firefighters had seen smoke coming from the letter-box of the flat in Strood but were unable to wake the occupants.
Alan Brown, from KFRS, said: "It would appear that on his return from a night out, the man decided to cook chips in the oven and then fell asleep.
"This started smoking but the flat's smoke alarm wasn't activated because it had no batteries in it."
The man in the Folkestone flat was alerted by his smoke alarm. He was treated by paramedics at the scene for mild smoke inhalation.
The fire service have produced a cooking safety film as part of their "stand by your pan" campaign.
Mr Sherwood said: "Residents need to think carefully when cooking late a night, as there is a high risk of falling asleep and leaving smouldering food to burn unattended."