Family of murdered Kent woman meet FCO minister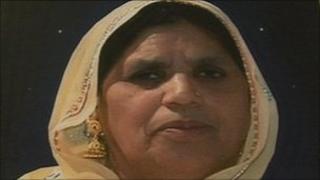 The children of a woman murdered in India have said they are disappointed after meeting with a Foreign Office minister to discuss the case.
Mother-of-three Surjit Kaur, 67, who lived in Chatham, Kent was found beheaded after visiting the Punjab earlier this year.
A trial of two men accused of her murder collapsed in October despite the men pleading guilty a month earlier.
Jeremy Browne MP said the UK government could not interfere in the legal case.
Mrs Kaur's daughter Nicky said she was frustrated with the meeting.
"All he [the minister] is saying, is the same thing that was said in the House of Commons, that they cannot intervene," she said.
"So basically it means that if you're a British citizen and you go to a foreign country and something happens to you, you're on your own."
'Cannot interfere'
Mrs Kaur went missing in India while on holiday at the end of March.
Police found her body at the start of April, 800 miles away from where she had been staying.
Two men subsequently admitted her murder, but a key witness withdrew their testimony and the trial was abandoned due to insufficient evidence.
A spokeswoman for the Foreign Office added: "Since the tragic death of Mrs Kaur we have provided consular assistance for her family including helping arrange the appointment of a UK police family liaison officer and arranging [Wednesday's] meeting with FCO Minister Jeremy Browne to discuss their concerns.
"It is for the Indian authorities to investigate the death and we cannot interfere in another country's legal procedures, just as they cannot interfere in ours.
"However, we will continue to provide appropriate consular assistance to the family where we can."