Two Kent hospital trusts have 'higher death rates'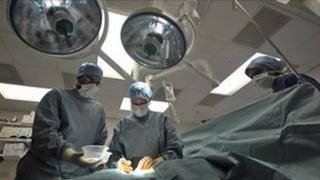 Two Kent hospital trusts have been named by independent health analysts Dr Foster as having death rates which are among the highest in England.
Dartford and Gravesham NHS Trust and the Medway NHS Foundation Trust are among a total of 147 trusts rated on four measures of mortality.
Both were higher than expected on two - deaths in hospital and outside hospital care within 30 days of discharge.
Both trusts said they had carried out work to address the areas of concern.
The data for 2010-2011, which also looked at performance overall, was published in the group's Hospital Guide, which has been produced yearly for the past decade.
Dr Foster, which works closely with the Department of Health, looked at death rates using four measures - deaths in hospital, deaths in hospital and within 30 days of discharge, deaths linked to low-risk conditions and deaths after surgery.
It said all the measures should be used as "red flags" or warning signs, and indicated there was a risk that poor quality care was leading to higher than expected mortality, although they "did not prove that this is happening".
'Significant variations'
Darent Valley Hospital, which is run by Dartford and Gravesham NHS Trust, was also listed among 10 hospitals with A&E departments in England with the lowest levels of senior doctor staffing at weekends.
In a statement, it said senior clinicians reviewed mortality every month and "any variation from the norm is investigated".
"Our detailed reviews of both individual variation and the general trend, tells us that overall, Darent Valley provides high quality medical and nursing care.
"However, our regular reviews do allow us to pick up significant variations that we can investigate and if necessary improve with changes to clinical practice."
The Medway NHS Foundation Trust pointed out that a high mortality ratio did not necessarily represent a shortfall in the quality of care.
"We have undertaken work within the trust to examine the underlying issues raised by Dr Foster's data more closely and our medical director has led work to address these concerns."
It said since October 2010 its deaths in hospital had been "within normal limits".