Kent cash machine thefts: eight more arrests made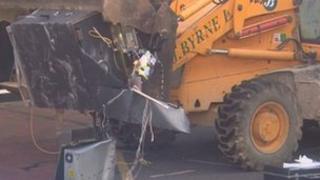 Eight more men have been arrested as part of an ongoing investigation into the attempted theft of cash machines across Kent.
One theft and two attempted thefts were reported to police over six days in November.
On two of the occasions, a stolen JCB digger was used to rip the machine from the wall.
Last week three men from Kent, two 25 year-olds and one 31 year-old, were arrested.
The eight men arrested on Tuesday were: a 30 year-old and a 25 year-old from Sevenoaks; two men from Longfield, 30 and 22; two men from Orpington, 22 and 18; a 27 year-old man from Gravesend and a man, 19, from Maidstone.
Since Tuesday the LINK Scheme, which manages the UK's cash machine network, has been offering a £25,000 reward for information on the thefts.
Two of the three cash machines targeted were later found intact.
On 22 November a cash machine stolen from a Co-op store in Sittingbourne at around 01:25 GMT was recovered unopened in a field close to the A2.
Diggers used
A JCB digger, which thieves used to try to steal a cash machine from the Natwest Bank on the High Street in Snodland at around 03:40 GMT on 19 November, was later found still holding the machine near the bank's damaged wall.
A cash machine stolen with a JCB digger on 16 November at around 02:40 GMT from a Waitrose store in Ashford was found empty later that day.
Detective Chief Inspector Keith Davies of the Kent and Essex Serious Crime Directorate, said: "There is still substantial reward on offer by the LINK Scheme, and I would urge anyone with information to call the hotline number - we will treat all calls in the strictest confidence."
The dedicated hotline number set up for the investigation is 01622 652494.