Family of dying Kent man refused life insurance money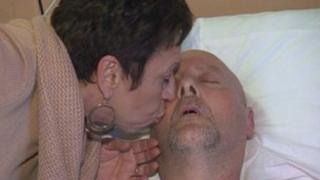 A terminally ill man's family could lose their home in Kent after his life insurers denied him a payout of more than £200,000 because his policy was in its final year.
Paul Holland was diagnosed with a brain tumour four months before his deal ended with Royal Liver.
The company claim they only pay out if a terminal illness is diagnosed 12 months before the policy ends.
His family said they would not be able to keep their home without the money.
His wife Kim, of Hawkinge, said: "When Paul rang up to tell them [Royal Liver] they said you couldn't claim in the last year, you had to give them a year's notice, which is absolutely ridiculous.
"How can you give somebody a year's notice that you're going to die? You don't know how long it's going to take."
'Paying valid claims'
A spokeswoman for Royal Liver confirmed that on Mr Holland's 10-year policy, notification of terminal illness had to made before the ninth anniversary of the cover.
"We are committed to treating our customers fairly and to paying valid claims," she said.
"If a customer believes their policy has been mis-sold, they should make a complaint to the advisory firm which was responsible for the sale.
"If that advisory firm is found to have mis-sold the policy, but has subsequently gone out of business, it is possible to make a claim against the Financial Services Compensation Scheme."