Military covenant to help Gurkhas in Folkestone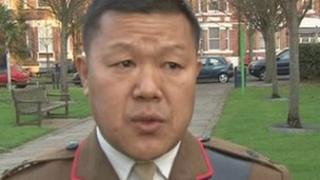 A military covenant has been signed in the Kent town where the Royal Gurkha Rifles are based.
The agreement, signed by Shepway District Council, is aimed at strengthening ties between the Armed Forces and residents of Folkestone.
It enables the council to bid for Ministry of Defence (MoD) funding to run local projects aimed at improving life for military families.
In 1998, the Royal Gurkha Rifles moved to barracks at Shornecliffe.
Major Dhyanprasad Rai said the covenant was an "honour and a privilege".
He said it would help serving service personnel, as well as those who have retired and settled in the area.
Councillor Brian Copping, of the People First Party, said: "When the Gurkhas are away, they're leaving their families here and if we as local people can make it easier for them, then let's go for it."