Kent Police appeal for calm after baby taken to hospital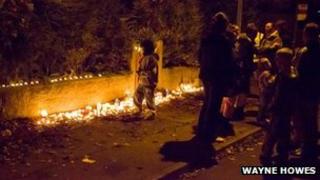 Kent police have appealed for residents in Gravesend to remain calm as officers continue their investigation after a baby boy was taken to hospital.
The child is in a serious but stable condition after being admitted on Thursday. Two people have been arrested and released on bail.
More than 100 people attended a vigil for the baby, believed to be one-month-old, in the Westcourt area on Saturday.
Supt Stuart Kehily said the vigil had largely passed without incident.
'Vigilante behaviour'
He said: "Some media articles today contained speculation about what has happened to the baby. This speculation has generated unhelpful rumours and increased community tension in this part of Gravesend.
"Kent Police takes all reports involving injuries to children extremely seriously, and specially trained officers are currently carrying out a number of enquiries to establish the circumstances in this case.
"The investigation is at an early stage and whilst two people have been arrested and released on bail while we make further inquiries, this is routine in investigations of this nature.
"I can understand the anger incidents like this can cause in the community, but I strongly warn people against jumping to early conclusions and seeking some form of retribution.
"Any form of vigilante behaviour will not be tolerated and will be dealt with robustly by Kent Police."
Supt Kehily urged people to remain calm and to let officers carry out their investigation.