Injured Gravesend baby speculation 'unhelpful'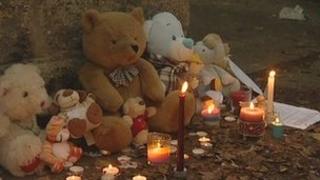 Detectives investigating how a baby boy from Gravesend came to have critical injuries say speculation on social media sites has been unhelpful.
The baby was admitted to hospital on Thursday. He is in a critical but stable condition, Kent Police said on Monday afternoon.
Two people arrested on suspicion of assault have been bailed.
Chief Superintendent Neil Jerome has addressed speculation over the boy's injuries.
He said: "There's been a lot of unhelpful speculation around social media and also what's going on in the community.
"It's our job to establish the facts and to conduct a thorough and professional investigation."
'Swift recovery'
Mr Jerome played down the significance of the release on bail of a 35-year-old man and 33-year-old woman.
He said: "Releasing individuals on bail, for this type of inquiry, is not uncommon.
"Our focus and the focus of the medical professionals is around the recovery of the baby.
"I would ask that the community's response is focused upon the welfare and the swift recovery of the baby boy."
Candlelit vigils were held in Gravesend on Saturday and Sunday for the month-old child.