Kent council boss payoff 'a bitter pill'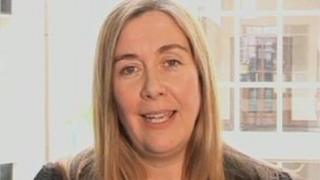 A union has described a reported £400,000 pay-off for a county council managing director as a bitter pill for workers who are losing their jobs.
Katherine Kerswell, who joined Kent County Council (KCC) 18 months ago, is one of 1,500 staff to lose their jobs as part of the council's spending cuts.
Unison spokesman David Lloyd said her severance package was "extraordinary".
KCC leader Paul Carter said it would save £500,000 over three years by cutting Ms Kerswell's post.
The Conservative-run council is to debate the decision to do without a managing director on Thursday.
But it has already announced that Ms Kerswell will leave by the end of the year to pursue new interests.
"It is extraordinary," said Mr Lloyd.
"Our low-paid workers haven't had a cost of living pay rise for over two years and low-paid women workers in the elderly care homes are losing their jobs at the end of the year.
"This is a very bitter pill to swallow at this time of year."
Mr Carter has said the exact amount of Ms Kerswell's severance payoff is confidential.
He said the council would be able to operate very successfully without a managing director and that the severance payment had been approved by the Audit Commission.
Ms Kerswell, who joined KCC from Northamptonshire County Council, was paid an annual salary of just under £200,000.
Councillor Trudy Dean, leader of the Lib Dem opposition, said: "If it is an amicable agreement there is no real reason why the settlement should not be published."