Diabetic Stephen Leheup missing for nearly a month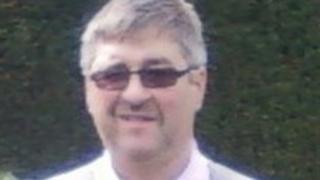 A Kent family has made a desperate plea for their missing diabetic relative to come home for Christmas.
Stephen Leheup, 50, of Turner Road, Tonbridge, arrived home from work on 20 November and then left without keys or money. He has not been seen since.
He took his mobile phone and charger, which police traced to north Tonbridge, but it is not known if he still has it as it is thought the battery is flat.
His partner Dawn and son Toby, 20, said they wanted to know he was safe.
"Having someone you love go missing is one of the worst feelings in the world.
"This Christmas won't be the same without Stephen and we are desperate just to know that he is safe."
They urged him or anyone who knew of his whereabouts to contact police.
"We certainly hope he will walk through the door at Christmas."
Mr Leheup has diabetes and it is not known if he had enough medicine to treat his condition with him when he went missing.