Festive cyclists in Kent Air Ambulance charity ride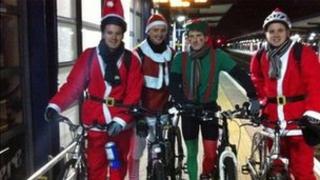 Four friends dressed as Santa and an elf have cycled from London to Ashford in aid of the Kent Air Ambulance.
Colleagues Jamie Chater, 22, and Daniel Clark, 23, were joined by Daniel's brother Jamie and family friend Chris Boyce, both 24.
The ride was in memory of Daniel and Jamie's brother Darren, 23, who lost his life in a motorbike accident in Faversham three years ago.
They cycled 60 miles on Saturday, raising at least £1,100 for charity.
The Kent Air Ambulance also attended a motorbike accident in 2007 involving Darren Clark's father, Graham, which he survived.
Mr Chater said: "Without the resources and commitment of Kent Air Ambulance our family and many others wouldn't be sharing this Christmas with some of our loved ones."
The quartet, who are all from Ashford, left Ashford International Station by train at 05:45 GMT for St Pancras station in London.
As soon as they arrived, they immediately turned around to start the journey back on their bikes.
Daniel Clark said none of the group were cyclists and had not done any training.
"I haven't even got a bike, I borrowed it," he said.
'Lost elf'
He conceded that the ride was hard, but said they were spurred on by the support of the public and the hundreds of motorists who tooted their car horns.
Mr Clark said the group were also motivated by everything the Kent Air Ambulance had done for them.
He added that they did have one little mishap, when they lost the elf - Mr Boyce.
"We were going up a hill and he was trailing behind because he was getting a little tired.
"He took a wrong turn - only for about 10 minutes - but we phoned him and went back."
The cyclists arrived back at Ashford International station at about 15:15 GMT, where they were welcomed by family and friends bearing mugs of hot chocolate.