Dazzling festive display nets £30,000 for Kent charity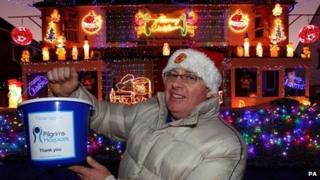 A Kent man has raised more than £30,000 for charity after turning his house into a dazzling Christmas display.
Father-of-two Stan Truelove has decorated his home in South Street, Canterbury, and a neighbouring property he owns with 50,000 festive lights.
He said the lights cost him about £7,000 and the electricity bill is about £365 a month.
Mr Truelove has collected about £30,000 over the past five years for Kent-based charity Pilgrims Hospice.
He said: "I turn them on at about 4pm every day and they stay on until about 11pm.
"The neighbours love them, as do the many people who walk past every evening just to see them. It's a real local attraction and I'm really pleased with them."