Pembury Hospital apologises for care of Trudy Gower, 91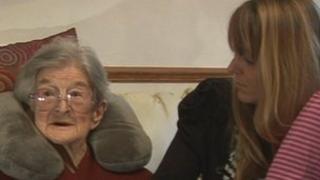 An investigation is under way into the treatment of a 91-year-old woman who was sent home from hospital with her medical tube still attached to her arm.
Trudy Gower, from Rusthall in Kent, had been admitted to the Pembury Hospital with severe abdominal pains.
Daughter-in-law, Michelle Gower, said she was shocked at the treatment Mrs Gower received at the £230m hospital, which opened in September.
The hospital has apologised and said it was investigating the incident.
Mrs Gower said she took her mother-in-law home after she was discharged.
'Extremely sorry'
"I hadn't realised that she was covered in faeces all over her legs, and also her line was still in her arm, which I was extremely shocked and annoyed about it," she said.
"I do feel this needs to be addressed. It's simple issues of communication, more staffing and training."
In a statement, the trust said it took Mrs Gower's situation "very seriously" and it was "extremely sorry".
"We have started a full and immediate investigation into what happened and will be keeping in touch with the family," it said.