Scrap the dog rescued from East Peckham drainage pipe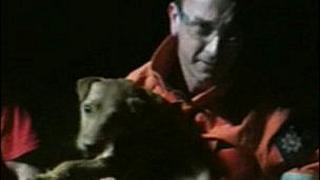 A dog that got stuck in a concrete pipe in Kent has been rescued after a two-hour operation.
A Kent Fire and Rescue Service crew was called to Bullen Lane, East Peckham on Christmas Day after the terrier had been stuck for about 11 hours.
The pet, called Scrap, was stuck in a land drainage pipe leading to a stream.
He was located using a snake eye camera and microphones designed to detect noises caused by movement and dug out with an excavator and shovels.