RSPCA appeal after eight piglets found in Paddock Wood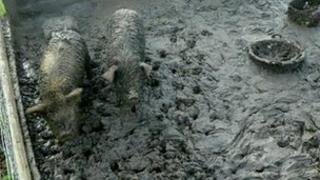 Eight piglets that were left in a Kent field with no shelter have been taken in by the RSPCA and now need new homes.
The charity was alerted after people reported the animals were escaping on to a road in Paddock Wood.
RSPCA inspector Andy Kirby said the Kunekune piglets were in pens without straw or bedding and with no means of getting out of the wind and rain.
He said their owner rented the field but was about to be evicted and had agreed the pigs would go to the RSPCA.
'Friendly pigs required'
Kunekune pigs are a small, short breed that have tassels under their chin, similar to goats.
Mr Kirby said: "There was no sign of food and water in the pens but the pigs were not underweight and they were very friendly so it's clear that they were used to being handled."
The piglets, which range in age from six months to a year, have all been given names by the RSPCA.
The youngest pair, about six months old, have been named Peppa and George.
Mr Kirby said the cost of boarding all eight pigs was more than £300 a week.
The charity wants to find people who have the correct facilities for livestock to take in the pigs.
The RSPCA said even small pig breeds such as the Kunekune needed space to roam, appropriate food, a warm, dry pig house, and plenty of material, such as straw, to root around in.
As sociable animals, they must be re-homed with at least one other friendly pig.