Isle of Sheppey fire leaves two families homeless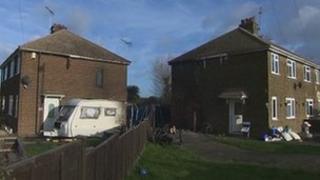 Two families have been forced to leave their homes following a fire on the Isle of Sheppey on Christmas Day.
It broke out at about 19:30 GMT outside a house in North Road, Queenborough, and quickly spread under the property, causing a gas leak.
The fire then spread to the outside of the neighbouring house, destroying a caravan parked on the drive.
Fire investigators said it was probably caused by a carelessly discarded cigarette. No-one was injured.
'Massive gas leak'
Alison Still, who lives in one of the houses, said if her 13-year-old son had not raised the alarm so quickly the situation would have been far worse.
"I could've been coming out in body bags because I was upstairs asleep in the back bedroom," she said.
Her neighbour Serena Morphey's home was also affected. She and her three children were out at the time, but her boyfriend was still inside their house.
"The fire caught underneath the house and in the cavity walls and they've had to rip up floors," she said.
"There was a massive gas leak... and they can't sort it out for the next couple of weeks."
Both families are staying in temporary accommodation until their homes are repaired.