Broadstairs protesters celebrate after park centre plans shelved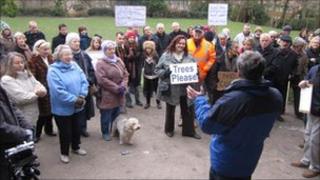 A local authority has withdrawn support for a controversial £1.4m community centre in a Kent seaside park.
Thanet Council has decided not to grant a long-term lease to Broadstairs and Saint Peter's Community Trust for the facility in Pierremont Park.
Some campaigners were furious they would lose green space and that trees would be felled in the park.
The council, now under new leadership, had given consent for the centre but has now withdrawn its support.
The trust wanted to replace a 90-year-old dilapidated hut in the park.
'Cutting down trees'
Following a cabinet meeting on Thursday, the council said it would explore alternatives with the trust such as improving the existing buildings.
Campaigner Christine Tongue said: "This is a great day for anyone with a love for Broadstairs historic park.
"Building a community centre here would have meant cutting down trees and fatally damaging the fabric of the park - all for something that precious few people wanted."
The trust was unavailable for comment.
Thanet Council, where there is no overall control, has a Labour leader after Conservative leader Robert Bayford was removed in a narrow vote last month.