Kent Police brand seized Range Rover to deter criminals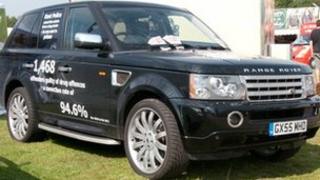 Kent Police have branded a Range Rover with anti-drug messages after its owner was convicted of drug offences.
The car is part of £3.6m of property which the force has amassed through confiscation orders from criminals in Kent from April to November 2011.
It has been parked outside addresses where drug warrants have been issued.
Det Insp Mark Fairhurst said: "We know that criminals use Kent ports for moving large amounts of cash connected with crime."
The owner of the Range Rover was sentenced to 18 months in prison for drug offences.
Mr Fairhurst said the confiscated money and items had been taken under the Proceeds of Crime Act.
However, he said criminals were finding new ways to hide money made through their crimes.
"Cash is now also being moved via property, other tangible assets and complex offshore accounts," he said.