Kent storms: Trees caused 68% of highways calls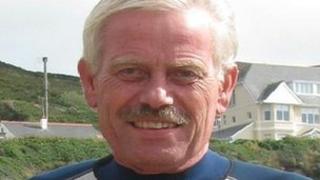 Kent saw a major increase in emergency calls over trees on roads during last week's storms.
Strong winds caused damage and disruption across the South East on 3 January, the first day of the storms.
The storms saw winds of up to 80mph across the South East, leading to the closure of the QEII bridge at Dartford and the Port of Dover.
That day road crews dealt with 259 call-outs, of which 177 (68%) were to trees or branches blocking roads.
The worst-hit areas were Dover, Tonbridge and Malling, and Maidstone.
In Tunbridge Wells, Christopher Hayes, 51, died when a tree fell on his van, but his passenger, Barry Martin, who was also in the parked vehicle, was saved because the tree fell as he bent down to pick up a lighter.
In Chipstead, Kent, a tree fell on to to an elderly couple's house, narrowly missing the bedroom where they were sleeping.
And in Surrey a bus driver suffered severe injuries when an oak tree fell on his vehicle in Witley, and part of the roof of Epsom Downs Racecourse's new £28m grandstand was blown off.