Gravesham mayor in Punjabi pop video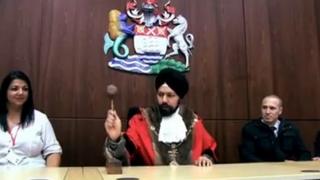 A Punjabi pop video by an Indian singer features a Kent mayor chairing a council meeting in his robes.
Gravesham mayor, Councillor Tanmanjeet Singh Dhesi, appears in a video about people originally from the Punjab who have been elected to high office.
The song by Punjabi singer Pammi Bai is being shown on Asian music TV stations and on the YouTube website.
Mr Dhesi said: "I am delighted that Gravesham has been included and it's very good promotion for the borough."
He added: "The video is proving very popular with young people, especially in India."
Business links
The YouTube video of the song, Punjabian Di Balle Balle, also includes shots of the mayor outside the Civic Centre.
Gravesham Council said the footage shot in Kent was taken specially for the video by the local authority's communications department.
The video also includes brief footage of an actual council meeting.
Mr Dhesi played a key role when taking the first step to twin Gravesham with Jalandhar city in India.
The arrangement, which received wide coverage in Indian papers, was aimed specifically at creating business links between the two areas.