Money lending shop ban bid by Medway councillor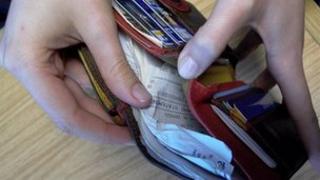 Money lending shops could be stopped from opening in parts of Medway under plans put forward by a councillor.
Councillor Vince Maple is calling for the government to give local authorities greater powers to control who gets licences to run the shops.
He believes the shops are used by vulnerable people.
But the Consumer Finance Association, which represents some of shops, said it advised people not to borrow their way out of debt.
If the motion is passed on Thursday night, Medway Council will put the argument to the government.
'Financial literacy'
Councillor Vince Maple said Medway Council wanted a cap on the total lending rate to be introduced.
John Lamidey, chief executive of the Consumer Financial Association which represents the eight largest payday loan lenders, said most long-term debt was on credit cards and bank overdrafts and he advised anyone with long-term debt to go to Citizens Advice (CAB).
"Do not attempt to borrow your way out of trouble from us or anybody else," he said.
Dan MacDonald, chief executive of Medway CAB said: "We do need to try and educate the people of Medway.
"We should be doing financial literacy in schools at a very early age - we need to break a generation of debt."
Currently it is up to the Financial Services Authority to licence a money lender.