Sheerness water tower demolition 'short-sighted'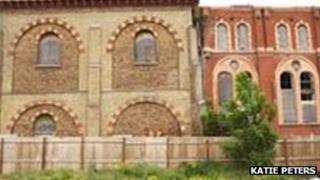 A heritage group has objected to the proposed demolition of a Victorian water tower in Kent, calling the plans "short-sighted and wasteful".
Developers are seeking permission from Swale Borough Council to knock down the tower in Trinity Road, Sheerness, to make way for a car park.
But the Victorian Society said the tower near Sheerness Dockyard was an important landmark.
It is owned by Cedar Holdings, which said it was "structurally unsound".
Managing director Antony Senny said: "We've tried our level best to see all the options that are available."
'Attractive building'
He added that experts had told him the structure had no special significance.
"This building is not deemed as a heritage asset. It was listed for six months in 1987 and de-listed in 1988."
The tower once provided the Isle of Sheppey with water.
After 100 years of service it was closed in 1960 and has sat empty for more than 50 years.
James Hughes, of the Victorian Society, said: "It is hard to see how knocking down an attractive historic building to make way for a car park will preserve or improve this part of Sheerness.
"Demolishing the water tower would be short-sighted and extremely wasteful."