Kent iPhone app aims to improve teen sexual health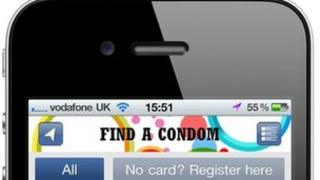 An iPhone app aimed at helping to reduce unwanted pregnancies and improving the sexual health of young people in Kent has been launched.
NHS Kent and Medway said teenagers would be able to find out where they can get free contraception.
The mobile phone app directs young people to the nearest outlet where free condoms are given out.
The condoms are given out by sexual health clinics, pharmacies, youth schemes and some school nurses.
'On the move'
Teenagers using the app must first attend an appointment with a health adviser to register for a Kent C Card, a contraception scheme set up in 2007.
The card can be used 20 times before an appointment is needed to register for a new card.
Ruth Herron, the head of sexual health at Kent Community Health NHS Trust, said the C Card scheme had been a success.
She said: "However, we recognise the need to be able to give teenagers the information that they require on the move as well."
The app was developed by Canterbury-based company Tinderhouse and is currently only available on the iPhone.