London 2012: New lifts hamper Paralympic station choice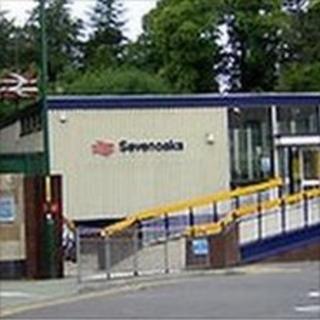 A change in rail travel arrangements for people attending the Paralympic cycling event at Brands Hatch has led to complaints from an MP and council.
Swanley station is closest to the venue and was due to have been the official transport hub for September's event.
However, doubts over whether new lifts will be ready on time have led Olympic organisers to announce Sevenoaks, which is further away, as the preferred site.
Network Rail said the bus ride from Sevenoaks would take four minutes more.
A spokesman the bus ride to Brands Hatch from Swanley station was 24 minutes and the bus ride from Sevenoaks station was 28 minutes.
'Still on track'
He also said Network Rail was "on track to complete the lifts by mid-August".
He said: "Since Brands Hatch was announced as a Paralympic venue we have been working hard to re-programme the work to install the lifts at Swanley station.
"We have always made it clear to everyone with an interest in this project that we would be able to complete the work before the Paralympic Games subject to no unforeseen issues arising.
"To date everything is progressing to plan, no problems have arisen and we are still on track to complete the installation of lifts by mid-August."
The Paralympic Games begin on 29 August.
But an Olympic Delivery Authority spokesman said the decision to use Sevenoaks station as the route for spectators to reach the road cycling venue would "enable them to benefit from existing step-free access and excellent transport links".
"Swanley station was originally the preferred London 2012 option, but this depended on accelerated lift works being completed prior to the Paralympic Games against a very tight timescale."
Conservative MP for Sevenoaks Michael Fallon said Network Rail had known since May that the Paralympic event was going to be at Brands Hatch.
"Sevenoaks station is 12 miles away from Brands Hatch. It's one of the busiest stations in the South East.
"It's used by thousands of people every day and there'll be far too much congestion there.
"I want Network Rail to look at this again. Surely as a country we can get two disabled lifts installed at 15 months' notice."
Swanley Town Council's clerk Brian Daley said using the local station would have made much more sense.
"We are the closest town to Brands Hatch... we're still forever hopeful, but we really are disappointed that two lifts can take more than 12 months."