Sevenoaks mother wins planning battle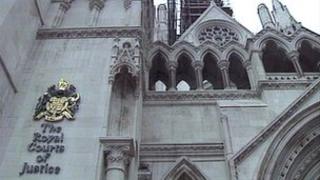 A Kent mother-of-two has won a legal battle with Sevenoaks District Council over plans to build a new property next to her house.
Rachel Wray took the council to the High Court after it approved planning permission for a large house just behind her back garden.
The council conceded the case just before High Court judges were to sit.
Jill Davison, deputy leader of the council, said: "We made a technical error, we admit that."
'Housing policy changes'
In 2009 planning permission was granted for a moderate house to be built on the land behind Mrs Wray's garden.
But in 2011 a new planning application was accepted for a much larger house to be built on the same piece of land but much closer Mrs Wray's back fence and overlooking the garden where her children play.
Mrs Wray said: "We felt it wasn't correct, so we went to the High Court to see if it was lawful or not and as a result it was ruled that Sevenoaks District Council did unlawfully misapply part of the government's planning policy which is intended to stop garden grabbing.
"We understand that over the last year improvements have been made on the whole planning decision-making methods, which is really good news for other Sevenoaks residents.
"If any new applications do go on the land we would obviously watch with interest but we would pursue them with the same tenacity."
'Wider implications'
Ms Davison said: "We made a technical error, we admit that. We really felt that it was a technical error but none the less when it comes to technical errors the judge can rule against you.
"We are applying the housing policy changes more rigorously."
James Pavey, Mrs Wray's solicitor, said he believed the case set a precedent for the rest of country with regard to garden grabbing.
"I think it does have wider implications. The High Court judge didn't give a detailed judgement, but the order that led to the quashing of the planning permission had to be stamped by the High Court - it had to be considered.
"It [Sevenoaks council] is the only council I've been aware of that stuck it's head out on this and acted contrary to the policy and clearly it put it's head back in before it was potentially chopped off by the judge."