Barham and Chartham children quiz speeding motorists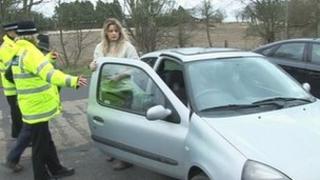 Drivers caught speeding outside two Kent schools had the choice between a £60 fine and points on their licence or explaining themselves to the children.
Kent Police traffic officers stopped motorists driving at over 30mph outside Barham and Chartham primary schools.
Three agreed to talk to the children in Barham and six in Chartham, during the exercise on Friday. One Chartham driver opted for the fine and three points.
Barham deputy head Jo Duhig said the pupils also learned about road safety.
Educate motorists
Emily Slater, 18, among those stopped in Barham, was driving at 38 mph.
"The toughest question I was asked was how I would feel if I killed a child through speeding," she said.
"I didn't know how to answer that."
PC Mandy Poulter said the event was intended to educate motorists about the dangers of speeding.
"We believe that hearing directly from children about the dangers of speeding makes a much more lasting impression than a fine and three points on someone's licence," she said.