Speed cameras across Kent and Medway trap 23,787 drivers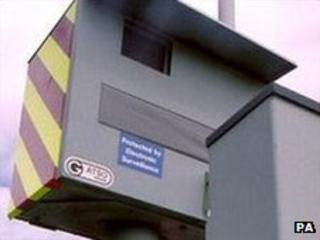 The number of motorists caught by every speed camera in Kent can now be checked after figures were published online.
According to the Kent and Medway Safety Camera Partnership, 23,787 drivers were caught across Kent and Medway in 2010.
The website also shows crash and casualty rates and speeds at each of the fixed sites before and after the cameras were installed.
The speed camera on the A229 Loose Road, in Maidstone, recorded 1,560 offences, the highest in the county.
The camera on the A264 Pembury Road in Tunbridge Wells was second with 1,080 offences, while third was the A226 London Road in Dartford, eastbound towards Greenhithe, with 573 offences recorded.
Figures 'self-evident'
The Kent and Medway Safety Camera Partnership (KMSCP), which published the information said there has been a 74% reduction in the number of people killed or seriously injured at fixed and mobile sites in the county since 2002, the equivalent of 397 people.
Ch Insp Andy Reeves, head of roads policing for Kent Police and KMSCP chairman, said the figures "speak for themselves".
He said there were currently no plans to install any more cameras because of financial constraints.
Terry Hudson, the Kent spokesman for the Association of British Drivers, which opposes speed cameras, said: "They may have saved a few lives, but we've got to remember, they've prosecuted a lot of people over a long period of time.
"And the effects of getting a driving ban or losing one's job is never, ever taken into consideration."