Kent's Bishop of Rochester Academy 'improving rapidly'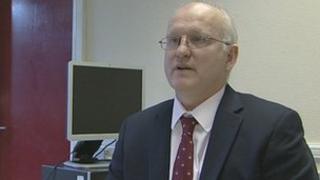 The new principal of a secondary school in Kent rated one of the worst in the country for GCSE results has said improvements are already being made.
Official data shows just 16% of pupils at the Bishop of Rochester Academy (BoRA) in Chatham achieved five or more A* to C grade GCSEs.
The Department of Education data puts the school third from bottom in the league tables in England.
Principal Colin Boxall said "things are improving rapidly".
Mr Boxall replaced Christopher Sweetman, who was suspended from the school following a performance review last April.
The Church of England academy, which specialises in maths with ICT and music, replaced Medway Community College and Chatham South School.
It operates from two campuses in Magpie Hall Road and Letchworth Avenue.
BoRA is sponsored by Rochester Diocese, Canterbury Christ Church University and Medway Council.
Mr Boxall, who started his role this month, said: "The academy was formed from two schools previously and it had difficult times, but we are anticipating this year that we will meet the government's floor target.
"There's lots of indications that things are improving rapidly. Staff and pupils have been working particularly hard this last year to make things improve.
"The governors are very committed and there will be a significant difference the next time around."
The Department for Education data covers England's more than 5,000 secondary schools with more than 200 pieces of information being published for each one - almost four times as much as last year.
Nationally 58.2% of pupils reach the five good GCSEs benchmark.
Adrian Prandle, an education policy adviser at the Association of Teachers and Lecturers, said: "Children's education would improve far more if the government concentrated on supporting schools which need extra help instead of naming and shaming them.
"Creating such high stakes league tables is not in the best interests of all pupils."
.