Gravesham council rejects green belt homes plan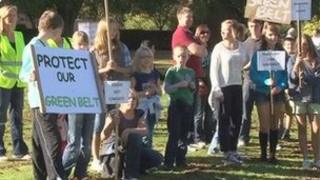 The future of green belt land in north Kent has been secured after plans to build hundreds of houses were rejected.
Gravesham Borough Council included the proposals in a public consultation but dismissed them after public opposition.
A new planning blueprint for the area will now say 4,600 new homes needed over the next 18 years can be provided through existing development schemes.
Hundreds of residents in Meopham held a march and attended a public meeting last year in opposition to the plans.
The leader of Gravesham council, John Burden, said it had been necessary to look at all the options and "engage with genuine consultation with the community" before a final decision could be reached.
He said the council was now asking for the "support of the local community" to get behind the plan in order for it to be approved by the government inspector.
Sue Gofton, chairman of the Gravesham rural action group which opposed the original plans, said she was delighted, and it was the right result.