London 2012: Republic of Congo athletes train in Medway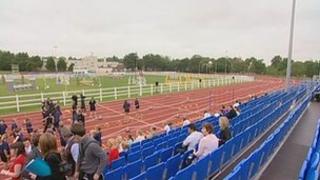 The Olympic team from the Republic of Congo have chosen Medway as their training base for the London 2012 Games, according to Medway Council.
It is the second French-speaking African team to choose the area for its for pre-Games training camps.
Athletes from Senegal also plan to train in Medway.
Medway Council wants native or advanced level French speakers to volunteer in assisting the Congolese and Senegalese teams during their time in Medway.
Aiming to qualify
The Republic of Congo hopes up to 25 of its athletes and coaches will be based at Medway Park in Gillingham.
They hope to qualify for the Games in sports including athletics, swimming and table tennis.
Five athletes from the Republic of Congo qualified for the Beijing Games in 2008.
The Senegal team is looking for qualification in athletics, judo, football and taekwondo.
If the Senegal men's football team qualifies it will use Gillingham Football Club's facilities for training.
Jumpers Rebound Centre in Gillingham has signed agreements with the Canadian and Portuguese trampolining squads to prepare their gymnasts for the Games.