Thanet residents consulted over Manston night flights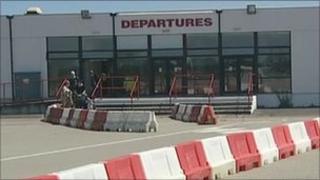 A 28-day consultation into a Kent airport's plan to run night flights has begun in a bid to draw the issue to a conclusion, Thanet council has said.
Manston Airport owners Infratil submitted a bid to run night flights in 2010 but the council said more clarification was needed.
The airport resubmitted its bid in October last year.
Council leader Clive Hart said the the community, the council and the airport needed the issue to be concluded.
Consultation will run until 2 March.
'Focused consultation'
Mr Hart said at this stage the council had been asked for its views as a consultee rather than a planning authority.
He said the local authority was seeking the views of local people in a "focused" consultation.
"We've promised that we will seek residents' views, and we're standing by this commitment," he added.
He said: "This issue needs to be drawn to a conclusion for the sake of the community, the council and the airport."
After the first night flight bid was submitted, Infratil said that more than 3,000 jobs could be created under the plans.
Airport bosses said the key to Manston's success was attracting airlines, and they would need flexibility to operate throughout the day and into the night.
Campaigners set up an online petition opposing the move.
The No Night Flights campaign group claimed the move would allow 24-hour arrivals and departures of some of the loudest freight, and noise from night flights was more intrusive and disruptive than at any other time of day.