Maidstone Hospital £10m payout over birth mistakes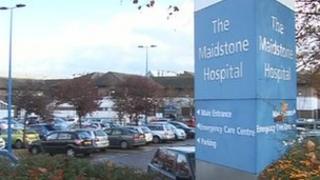 The mother of a boy who suffered catastrophic injuries during his difficult birth has said she is relieved after the High Court approved a £10m compensation payout.
Tracy Scotton's son William was born at Maidstone Hospital in 2007.
Injuries sustained during the delivery mean he will need round-the-clock care for the rest of his life after being left severely brain damaged, quadriplegic, blind and epileptic.
The hospital admitted full liability.
Speaking outside the High Court, Ms Scotton said: "I am relieved it is finally over."
Difficulties arose because William was a large baby, weighing 11lb 10oz (5.2kg) when he was born.
His mother took Maidstone and Tunbridge Wells NHS Trust to court claiming she should have been referred to an obstetrician for specialist care when it was realised his estimated weight at 34 weeks was 8lbs (3.6kg).
She also said further mistakes were made during his delivery, which resulted in her having to have an emergency Caesarian section.
A spokeswoman for the trust said: "We wish to repeat sincere apologies to William and his family for the injuries which he suffered arising out of his delivery in 2007.
"We are pleased that an appropriate level of compensation has been agreed between the parties to offer security for William.
"We wish to pay tribute to the dedicated care given to William by his family over the past four and a half years and wish William and his family well for the future."