Company dashes jobs hope for Thamesteel workers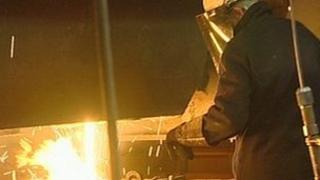 Eighty people made redundant from a Kent steel plant have had their hopes for work dashed after a prospective employer pulled out of a meeting.
Thamesteel, in Sheerness, went into administration last month.
A Dartford engineering firm then said it was looking for 80 highly skilled workers, but cancelled at short notice a recruitment drive planned for Friday.
Meanwhile, it has been revealed that 10 personnel and office staff kept on at Thamesteel are to lose their jobs.
Of the 400 workers employed at the plant on the Isle of Sheppey, 350 were immediately made redundant, while 50 were originally told they would be retained to keep the site running until a buyer could be found.
Local Conservative councillor Ken Pugh, of Kent County Council (KCC), said news that Crown House Technology had cancelled its meeting with prospective workers had left him "absolutely disgusted".
"Possibly 80 people would have benefited from these vacancies, including apprentices who are left out in the cold now."
'Job hopes'
Pat Wiggins, from the Community union, added: "It's going to be very difficult for people to find jobs and it looks like they will have to go off the island.
"We just have to keep up our hopes that they will find jobs."
Earlier this week, a task force convened by KCC agreed to set up a job club and "help desk" to aid the redundant workers.
Chairman Kevin Lynes said it would also be asking the government to speed up redundancy payments.
Administrators for Thamesteel are hoping to find a buyer to take over the site.
Mazars said earlier this month that it had received more than 20 "expressions of interest".