Car blast wife Victoria Fabian forgives husband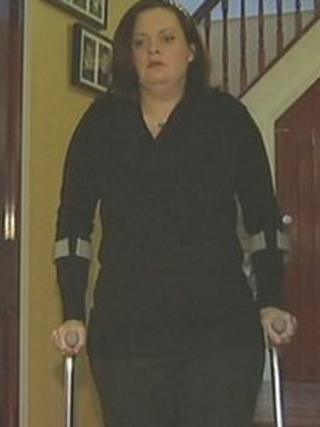 A woman who was seriously injured when her then husband tried to kill her by blowing up her car outside their Kent home says she has forgiven him.
Victoria Fabian, who was heavily pregnant and had her young son in the car, suffered serious leg injuries in the attack in Vigo in March 2010.
Nicholas Fabian was found guilty of attempted murder and jailed for life with a minimum term of 16 years.
Ms Fabian said "too much hatred and anger" would only bring her down.
She remarried her first love - whom she met at the age of 14 - in December after he got back in touch while she was recovering from her injuries.
Ms Fabian and Charlie, her eight-year-old son from a previous marriage, were in the car at the time of the blast.
They were in a borrowed car which was being returned. Her soldier husband, who had been having an affair, had got into the family's Vauxhall Zafira with their own son Harry, then aged three.
After the explosion, which was caused by a grenade planted in the car, Charlie managed to escape but his mother was too badly hurt to move.
Her unborn son Freddie was delivered safely three months later.
Ms Fabian still has difficulty in walking and remains in pain.
She told BBC Radio Kent: "I think I have forgiven him. Obviously if things had turned out a different way it would be a different story.
"I have because I feel too much hatred and anger is only going to bring me down and bring my family down and it's an energy that I don't want to carry around with me."
She added: "I think it's the ability to forgive otherwise I just would've been very bitter and twisted, and I've always kept it in my head that not all men are bad."
Ms Fabian said her former husband had sent her a letter about three months after last year's trial saying he was sorry for all the hurt he had caused.
"But he didn't actually come out and say 'I'm sorry for what I've done'.
"I don't even know if he even knows why he did what he did.
"And I think I've come to terms that I probably will never get that answer."
She added: "A lot of the things that used to bother me don't bother me anymore.
"Life's too short to get caught up in it all. My views have definitely changed."