Kent schoolboy plans charity football walk from Wembley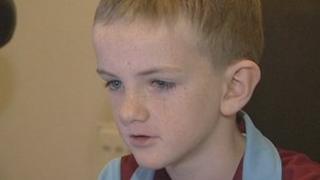 A 10-year-old boy who has raised nearly £50,000 for a cancer charity is planning to repeat his feat by walking from Wembley Stadium to Upton Park.
Jonjo Heuerman, from Wilmington, in Kent, undertook the walk last year to raise money for the Bobby Moore Fund.
The West Ham fan, whose grandmother died from bowel cancer, has called on supporters from other clubs to join him.
He said: "There's no limit - I just want to keep going."
The schoolboy is set to begin his three-day walk, from north-west to east London, on 23 February. On his previous walk he raised £45,000.
He said: "It means a lot to me because my Nan and Bobby Moore died from bowel cancer and I don't want anyone else to die from it.
"It's a terrible disease."