Dover 'Duty free' fuel station proposed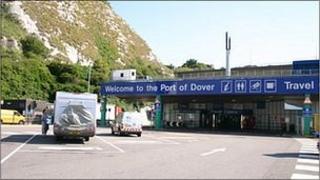 An extra £400m could be raised each year by having a fuel station in the duty free zone of the Port of Dover, according to Kent County Council.
Council leader Paul Carter said a European lorry could drive to Aberdeen and back without refuelling and avoid paying any duty to the UK government.
He is suggesting a filling station at Dover offering fuel with the European levels of duty imposed.
This would also help UK haulage firms benefit from cheaper fuel, he said.
"Why couldn't we have a fuel station selling derv and petrol at the same duty rate as Luxembourg?" Mr Carter said.
"We're getting no duty from foreign hauliers because they nip back to Europe and can drive from Luxembourg to Aberdeen and back to Luxembourg again without paying a penny's worth of fuel duty in the country.
"If you could sell derv and diesel and petrol in the Port of Dover in the duty free zone at the same rate of duty as Luxembourg it could potential raise £400m a year."