Sheerness Thamesteel worker: 'I just want a job'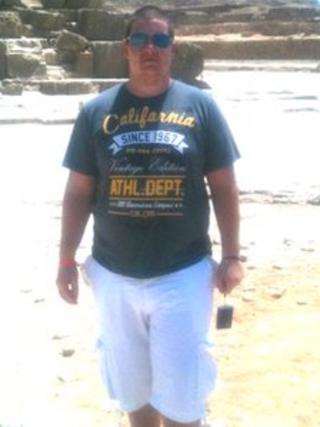 A former worker who lost his job when a Kent steel plant went bust has spoken about the difficulties of finding new work.
"I just a want a job, it's driving me mad sitting at home," said Shaun Ross, from Sheerness.
Mr Ross, 28, was a furnaceman at Thamesteel, which went into administration on 25 January.
The closure made 400 people redundant.
Mr Ross said he had been told by job centre staff that his "skills from the steel mill are not transferable to anything else".
Mr Ross worked at Thamesteel for four years, running the furnace which melted scrap metal.
He said the job hunt was even harder for some of the other former Thamesteel workers.
"One of the guys who lives round the corner from me, he's been working there [Thamesteel] on and off for 40 years," he said.
"He was saying for him, and others like him, they feel institutionalised."
Mr Ross said he wanted to find work in Kent or London because he has a five-year-old son who lives in Aylesford.
He said: "A former colleague's wife sent me an email about Emirates Steel in Dubai taking people on.
"I would do it if it wasn't for my little boy."
Before his job at Thamesteel, Mr Ross worked as a satellite communications engineer, was employed by chemical and pharmaceutical companies and also sold double glazing.
Since the closure of Thamesteel he said he had had two job interviews.
One resulted in an offer of a job as a sales representative in Maidstone but he turned it down because the position required a car.
"I couldn't afford to pay my bills for the next month if I bought a car," he said.
Mr Ross said he had also got through to the second round of interviews for a marketing manager position in London, "but the hours expected of the job offered weren't do-able with the time it takes to commute".
On Monday Mr Ross has an interview for a security job at the London Olympics.
He added: "The only jobs that are on the island are for qualified engineers, personal carers or HGV driving."
If Thamesteel reopened, Mr Ross said he would go back to his old job.
"The lads that you work with, you know that you can trust them. If anything goes wrong you've got to trust them with your life," he said.
Mr Ross said he had not yet had any help from the Community Union, which represents Thamesteel workers, or the taskforce set up by Kent County Council to help workers from the plant find new jobs.
But he said he planned to go to a meeting organised by the union on Saturday and was going back to the job centre next week to ask about re-training.
On Thursday the taskforce sent an open letter to Kent businesses asking them to consider employing apprentices made redundant by the Sheerness steelworks.
Mr Ross said: "No-one liked the steel mill being there, it's noisy, dusty and dirty. Now everyone's gutted that it's closed."