Pet rabbits in Kent discovered with ears chopped off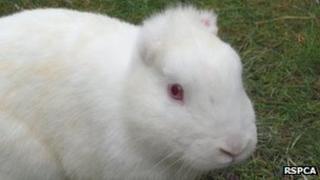 The RSPCA has appealed for new homes for rabbits in Kent after three were discovered with their ears chopped off.
Two white rabbits and a brown rabbit were discovered mutilated in Quex Park, Thanet.
The Maidstone and Tunbridge Wells RSPCA has said it has no room for them.
Katie Harris, cattery and small animals manager, said: "We can't be completely sure, but we think that someone may have deliberately cut off the rabbits' ears and dumped them."
The rabbits were found on 10 and 11 February.
Ms Harris said: "This is an absolutely despicable thing to do to any animal and we would like to hear from anyone who thinks they might know who was responsible."
She added that the branch desperately needed accommodation for the rabbits.