Maiden voyage for new Dover to Calais ferry service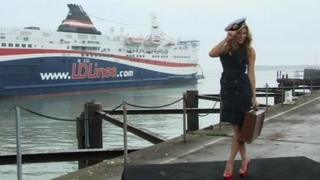 A new cross-Channel ferry service has made its maiden voyage between Dover and Calais.
The Norman Spirit, which is a joint venture between DFDS and LD Lines, set sail for the French port at about 13:00 GMT on Friday.
Model and actress Kelly Brook launched the inaugural sailing dressed in a sailor's uniform.
Chris Newey, passenger director for DFDS, said new 150 staff had been recruited so far.
The ferry firms hope to take on another 150 people when a second ship starts operating the route in the near future.
The joint venture between DFDS and LD Lines was formed last year but in November a £5m bid for SeaFrance was rejected by the Tribunal de Commerce in Paris, despite the court declaring SeaFrance bankrupt.
In December, DFDS dropped its attempt to buy the ailing French ferry company.
Three ferries were operated by SeaFrance on the Dover to Calais route but the service was suspended in November.
The French firm, which carried more than 3.5 million passengers a year on the Dover to Calais route, went into liquidation in January with a loss of 127 jobs in Dover and hundreds more in France.