Inquiry into Northfleet birth defects 'cluster'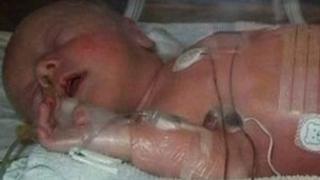 Families at the centre of an inquiry into birth defects in Kent have met the health expert who is leading the investigation.
Five babies were born with the same rare defect in one street in Northfleet.
The babies all have gastroschisis, a condition where part of the bowel protrudes through the abdomen.
Meradin Peachey, director of public health for Kent, has now met those affected, who all live in Waterdales.
Ms Peachey said her first task would be to carry out statistical analysis and establish whether it was a cluster.
'Environmental worries'
She said: "It seems very unusual having this number of cases in one road
"The women have put themselves forward to share personal details, so I can do a proper investigation of all the factors."
She said she had met the affected mothers because she wanted to know if they had identified any environment issues they thought may have caused the defects.
But she added: "If you look at cluster studies around the country there is often one thing, one power station that people are worried about.
"There isn't one thing in Northfleet, there are a number of factors, so I wanted to find out what are all the things they are worried about."
Ms Peachey also said the condition could be related to lifestyle factors such as smoking and alcohol but added all the women involved had said they had different lifestyles.
Gastroschisis occurs in approximately one in 7,000 births. A hole develops in the baby's abdominal wall while inside the womb, and part of the bowel escapes through it and continues to develop externally. The condition is treated by surgery after birth.
Sonia Dalton, whose daughter, Mikka, was the first baby in the road to be affected, has said the families are taking advice from specialists at King's College, London.