Gravesend DIY store arsonist 'could be injured'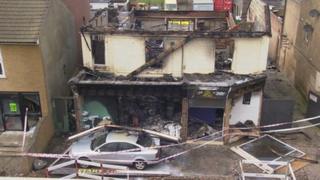 A fire which gutted a DIY store in Kent is being treated as arson.
About 60 residents had to be led to safety after it swept through the Start and Finish shop in Wrotham Road, Gravesend, on Thursday night.
They were able to return to their homes at about 04:00 GMT, nearly eight hours after the fire broke out.
Appealing for witnesses, Det Insp Geoff Payne, of Kent Police, said the offender may have suffered injuries as a result of starting the fire.
Firefighters in eight engines were called to the scene at 20:35 GMT.
The roof collapsed at the two-storey building, which was severely damaged by the fire, incident commander Stuart Skilton, of Kent Fire and Rescue, said.
"The fire was severe and had developed rapidly due to the combustible stock in the shop," he added.
Firefighters had to use breathing apparatus and a height vehicle to bring the fire under control.
Resident Victoria Williams said: "We looked out of the front window and there were just flames absolutely everywhere.
"The shop was completely on fire. The whole front of the shop had fallen down on to the front of a car and it was quite frightening because we didn't quite know what was going to happen.
"We were a bit concerned because of the style of the shop, because it's a paint shop and they sell gas there. We were really concerned that it was going to explode."