Kent pensioner conned out of £80,000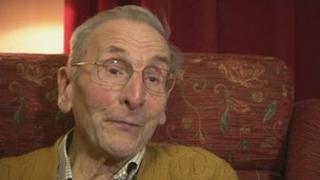 A pensioner in Kent lost £80,000 over three years after conmen repeatedly used well-practised tactics to exploit him, a BBC investigation has revealed.
World War II veteran Gerald Griffiths, 90, was targeted when he was living alone and recovering from cancer.
Rogue traders offered to clear his roof and then more gangs returned to do further unnecessary work on his house.
Police and trading standards officers said conmen were known to share and sell lists of potential targets.
'Sharing information'
Mr Griffiths, who fought in five different countries during World War II, told the BBC's Inside Out programme: "They came in a proper signed van, well-dressed with an identity tag up on their chest.
"They wanted to clean the roof off, of moss, and paint the roof, and I agreed."
He said that after he realised he had been paying for years of unnecessary work on his home, he felt "a bit angry".
"It seemed ridiculous falling for it," he said.
Det Sgt Ben Turner, from Kent Police, said vulnerable people could be preyed on more than once.
"From investigations that I've carried out, I've been able to show that groups of people that we have investigated have shared information about possible targets," he said.
"Sometimes a person will be visited more than once over a period of time and the timescale can vary from a month to six months to years, but unfortunately if they are seen as an easy touch they may be returning to that same person."
'Isolated and alone'
Police have now set up a national intelligence unit to share information on conmen who try to evade the law by moving around the country, he added.
Kent trading standards officer Jason Reilly said conmen were well-practised at choosing potential targets.
He said they often worked to befriend victims who were isolated and alone.
"The ideal victims that they will go for will be people that are in a community but are on their own," he said.
"Maybe their relatives have died and their partners have died and their friends have moved away.
"They are not particularly friendly with the neighbours, so they will be in a community but in a way isolated. They don't go out very much. They haven't got any clubs they go to."
And he said that when conmen found their vulnerable victims, they worked to befriend them and become their friends.
Mr Reilly also said conmen would target areas where there were small bungalows that showed tell-tale signs such as handrails, unkempt gardens and uncleared gutters, which were all indications that there was an elderly, vulnerable person inside the property.
Trading standards prevention advice is never to buy at the doorstep, keep all doorstep sellers out of houses, and even have signs of activity at a property such a bicycle, children's toys, football team posters - anything to suggest that people are coming and going from the property.
Inside Outis broadcast on BBC One South East on Monday, 27 February at 19:30 GMT. It is also available nationwide on the BBC iPlayer for seven days thereafter.