Marcus Coates jailed for strangling Jennie Banner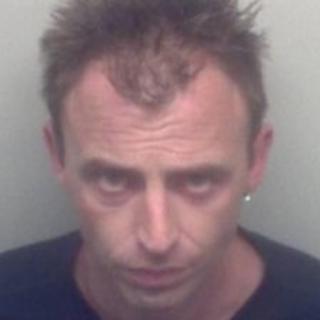 A drug addict who strangled a Kent woman with a belt and left her body for five days has been jailed indefinitely.
Marcus Coates, 44, of Ernest Road, Chatham, was found guilty last month of the manslaughter of Jennie Banner, 32, who was found dead in a Chatham flat.
He was jailed at Maidstone Crown Court and given an indeterminate sentence.
Coates was told he must serve a minimum of seven-and-a-half years before he can be considered for release.
Judge Philip Statman described Coates as "dangerous" and said he had shown no remorse, only self pity.
Ms Banner was killed by Coates when he visited her flat in Five Ways Court, High Street, Chatham, in August last year.
'Violent offending'
Kent Police said he left her body on the bed, covered her with a duvet, and closed the curtains, before taking her keys and phone and locking the flat.
He did not admit to the crime until five days later.
The pair were known to each other through friends and Coates had claimed her death was an accident during an intimate act between the two, a statement said.
Det Ch Insp Jon Clayden, from the Kent and Essex Serious Crime Directorate, said: "Now is a poignant time to reflect on the positive aspects of Jennie and her life.
"She had a large and loving family, a wide circle of good friends and was universally well thought of. Her future, but for the intervention of Marcus Coates, looked positive.
"Marcus Coates, who claimed to be her friend, went to Jennie's flat and during his time there with her, she was strangled and died.
"He has a long history of violent offending and is a danger.
"It is only right that he spends time behind bars where he will have plenty of time to think about what he has done and cannot be a danger to anyone else."