Traffic to be banned from Westgate Towers in Canterbury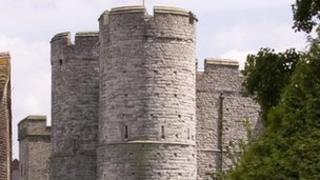 Traffic is to be banned from passing through a medieval gateway in Canterbury in a 12-month experimental project beginning in a few weeks.
The city council has described it as the most radical change to the road network for 20 years.
From 27 March, all vehicles will be banned from going through the arch between the Westgate Towers and will be diverted round back roads instead.
The aim is to protect the towers, cut congestion and improve air quality.
Built in 1380, the archway structure is the main entrance for vehicles entering Canterbury, and is thought to be the largest surviving medieval gateway in the UK.
As part of the scheme, the road underneath the grade-I listed towers will be pedestrianised.
Executive member for transportation, Councillor Peter Vickery-Jones, said: "Removing traffic from passing underneath one of our landmark, historic buildings has been an ambition for many years."
Local residents and some businesses have expressed concern at the scheme, in particular the impact it will have on surrounding roads in the St Dunstan's area that are likely to see an increase in traffic.
But Mr Vickery-Jones said: "We will monitor the situation very closely and will be able to respond quickly to any major problems that occur, and make adjustments if necessary."
Winston Feather, a shopkeeper in St Dunstan's who represents traders in the area, said some felt a reduction in traffic could be a threat to businesses in the area, but the majority were in favour of the changes.
"None of us will really know how good or bad it is until it's actually happening," he said.