Bereaved families in Kent suffer registrar delays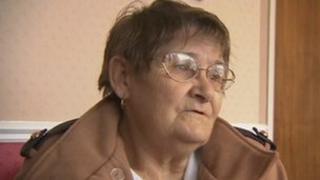 Bereaved families in Kent are having to wait weeks to register the deaths of loved ones after the process was changed to save money.
In January, Kent County Council (KCC) switched from registering deaths at register offices to local libraries, causing long waits for appointments.
"It prolongs the pain because you can't do anything, you can't arrange anything," said widow Brenda Robinson.
KCC apologised for the delays and said it was improving the service.
The changes will save the council £350,000 a year.
Mrs Robinson's husband, Clarence, died in January but she was unable toregister his deathuntil 10 days later and had to travel to a library 13 miles (21km) from her home in Margate.
She said it made the pain of losing him 10 times worse.
"When you get there you've got people changing their library books and people on computers," she said.
"It is so impersonal - it doesn't help."
'Five-week wait'
All deaths must be registered with a registrar, normally within five days. The funeral date cannot be finalised until after the death has been registered.
Margate funeral director Neil Walker said people were having to travel much further distances than before.
"Locally, they can't necessarily get the appointment that best suits them," he said.
"We had one case in the Thanet area where it was three weeks before they could actually register a death.
"People were being sent to Deal, Dover, Folkestone - all over the place to register."
Conservative MP for South Thanet, Laura Sandys, said she knew of constituents who had waited as long as five weeks to register a death.
"This is a most stressful period in a family's life and this is a very important process that needs to be done quickly, efficiently and with sympathy," she said.
Head of libraries Cath Anley said the problem was made worse at the start of the year because January always saw the highest demand for death registrations.
"It follows the Christmas and New Year close-down when a backlog has developed so every year January is a difficult month," she said.
"Also, we launched with not all the staff trained and that has proved difficult."