WWII veteran to pay respects to friend shot down over Japan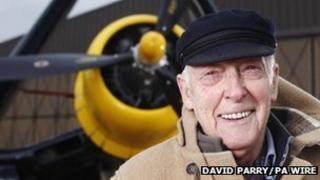 A veteran is celebrating his 90th birthday with the news that he is to return to Japan to pay respects to a friend shot down in World War II.
Flt Cdr Keith Quilter, from Tenterden, witnessed 22-year-old Walter Stradwick's plane explode in a ball of flames in July 1945.
"Walter was a lovely guy. I found out where his grave is and I'm going to leave a wreath there," Mr Quilter said.
The veteran has received lottery funding for the trip to Japan in May.
The cabin mates were serving as fighter pilots on the aircraft carrier HMS Formidable when Mr Stradwick was killed
"We were all such young and cocky fighter pilots. But by the time VJ Day came I think half the squadron had been lost," Mr Quilter said.
"When your close friend and cabin mate is shot down and you get back to the ship and walk back into an empty cabin room, that is quite something."
Mr Quilter will be making the commemorative visit as part of the Big Lottery Fund's Heroes Return 2 programme.