Kent soldier's war medals returned after burglary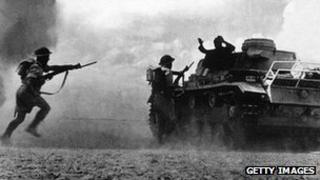 War medals stolen from the home of a 92-year-old veteran have been returned after they were found on wasteland.
The eight medals belonged to Alfred Austin, of Princess Margaret Avenue, Margate, who served in the Royal Army Service Corps in World War II.
Four were from his exploits fighting in North Africa and four were won by his father-in-law for naval service in World War I.
Mr Austin said their return had restored his faith in human nature.
The burglary took place either late on Tuesday or early Wednesday.
The medals, which were mounted in two glass-fronted display cases, were handed in to Margate Police Station on Thursday afternoon after being found by a member of the public behind Fifth Avenue, Cliftonville.
Mr Austin said: "The medals mean a great deal to me. I was in the war for six-and-a-half years and there are so many memories attached to my medals.
"I'm so pleased to have them back and would really like to thank the person who found them and handed them in. It has restored my faith in human nature."
Police have appealed for anyone with information regarding the burglary to contact them.