Ben Freeth launches charity for father-in-law killed in Zimbabwe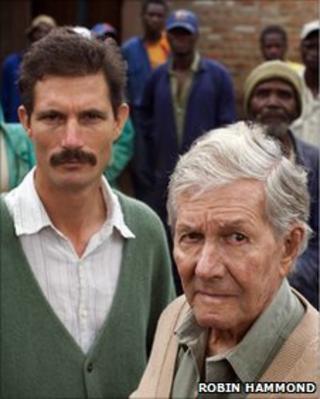 A farmer from Kent, whose father-in-law was killed in Zimbabwe, is launching a charity dedicated to his memory.
Ben Freeth, from Sittingbourne, said his father-in-law Mike Campbell was beaten by supporters of Robert Mugabe three years ago and died from his injuries.
Mr Freeth said he was also beaten and had his land taken.
Mr Freeth will launch the Mike Campbell Foundation at the Royal Geographical Society in London.
"Mike Campbell was a very brave man," said Mr Freeth.
"He took a president to court, a dictator to court - to an international court - and he won.
"He was then very badly beaten and eventually died.
"This is the launch of the Mike Campbell Foundation looking at how we can assist in Zimbabwe to bring back human rights, to bring back the rule of law in a country where that has completely left."
'We've suffered'
Mr Freeth said Mr Mugabe had began a very specific campaign against the people of Zimbabwe with white farmers as one of the main targets.
He said no-one had a problem with giving land back to the indigenous population, the problem was they way it was being carried out.
He said: "It came in a violent and forceful way where the rule of law was completely absent and where farmers and farm workers were being chucked in jail, beaten up and killed."
Through the Mike Campbell Foundation, Mr Freeth will continue to try to restore human rights in Zimbabwe and other Southern African Development Community (SADC) countries.
"For us Zimbabwe is home and home is somewhere you want to protect - somewhere you want to make into a good place.
"We love the people, we love the flora and the fauna, we love the farm and if people are just going to leave when things get tough rather than change things for the better, then all countries would end up in absolute chaos.
"We believe that we can make a difference, and that we are making a difference, and that we will continue to make a difference."