London 2012: Flying school hit by Olympic restrictions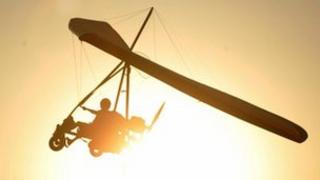 Flying schools in Kent will suffer from tight security restrictions during the Olympics, according to the boss of an airstrip near Rochester.
Medway Microlights, in Middle Stoke, designs and builds microlights, and teaches people how to fly them.
But for five weeks during July and August, almost nothing will be allowed to leave the ground.
Chief Executive Chris Draper said the restrictions would be in the middle of his busiest time of year.
"I feel pretty bitter because we've offered alternative [routes] that would work but they just haven't listened," he said.
"The military side of things have just taken over and said 'no'."
Chief flying instructor and examiner Chris Childs said the company would lose five weeks of earnings.
"We do a lot of trial flights for the public and it's when most of our students start training, pass their flight tests and get their licence," he said.
However, aviation minister Theresa Villiers said it was normal for restrictions to be imposed during an Olympics.
She said: "It is not unusual for the government to impose restrictions on flying for safety and security reasons and comparable measures have been implemented at previous Olympic Games."