Hundreds of Shepway businesses close in last two years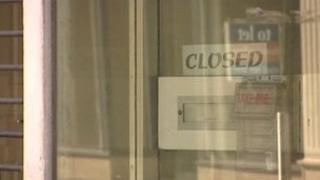 More than 1,300 businesses in Shepway in Kent have closed in the last two years, according to new research.
The area's businesses have declined by 7.8% year-on-year, falling from 8,253 in 2010 to 6,951 in 2012.
Only Hounslow in west London and Knowsley near Liverpool have seen greater rates of decline.
The research carried out by Experian for the BBC looked at evidence of growth, or otherwise, in every local authority area in England.
It also showed that Shepway had 9% more new start-up companies in the same period, with Dover and Wealden also in the country's top five areas.
Online auctions
A Shepway District Council spokeswoman said that the total number of employees had increased from 35,600 to 37,600 between 2010 and 2012.
A BBC spokesman said the report was based on data from sole traders and partnerships not normally collected by other data agencies. This includes, for example, information on people operating online auction businesses from home.
Tunbridge Wells had the second biggest rate of decline in Kent, losing 301 companies in the same period, according to the research.
The spa town saw the number of companies reduced from 9,506 in 2010 to 9,259 in 2012 - a drop of 1.6% each year.
Economic indicators
The research showed that the South East, followed by London, had the lowest proportion of "champion" businesses - companies which have the ingredients to prosper in this financial and economic climate.
These companies are often in a position to replace the jobs lost in small and medium-sized companies.
Dover saw the biggest growth in business in Kent, although the South East region as a whole fared worse than most of the rest of the country.
"Business growth over time provides a good indicator of the economic health of a local area and an indication of its future potential," the report said.